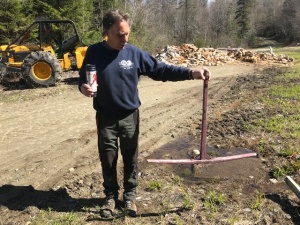 In 2018 the Prospect Mountain Association (PMA) assumed management of Prospect Mountain. The PMA is a Vermont Not for Profit 501(c)3 corporation made up of volunteers who love everything to do with Prospect, and the community that has developed here. Ticket sales and other income help to keep the Lodge and trails at their best operating conditions, but in order to tackle larger improvement projects the PMA looks to the support of our community in order to have the capital needed. Your support is greatly appreciated.
Thank you to all who purchased one of the wooden T-Bars to help support Prospect Mountain, we are now sold out.
Did you know …?
Prospect Mountain pays over $200,000 per year on necessary expenses.

This includes Utilities (such as electricity and water) roughly $16,000, Insurance $13,000, Town of Woodford Property Tax $8,500, and payroll for our full-time staff members on the mountain $55,000.

The average race at Prospect costs $1,500.

The recent work to upgrade the septic system will cost about $160,000 (to date).

And we'd like to thank our anonymous donor for supporting our estimated $75,000 plan to add snow-making capabilities to Prospect in the near future.

All of this would not be possible without your generous, and we hope, ongoing support. Please join us this season. Ticket, kitchen, and our new-this-year retail sales all go into these expenses. And if you can, consider donating as well. Thank you.
Every year Prospect Mountain hosts a variety of races and events that rely on support. If you are unable to donate money, please consider giving some of your time. When the season begins we will begin to plan our calendar of events, at that time we will begin to look for volunteers for Bill Koch races, High School races, special community races and events.

Thank you for your help. And welcome to the Prospect Mountain Community.