Cross country skiing for all ages and skill levels in rural Vermont. Open daily 9-5 (or sundown) in season as conditions allow. Prospect Mountain Nordic is a cross country ski center located in Woodford, Vermont.
COVID-19 Update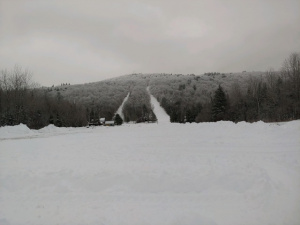 The lodge, ticket office, and Nancy's Nook will be fully open this year. We are requiring that masks be worn at all times, even if you are vaccinated, except when eating and drinking.
---
Jen Clarkson-Smith is offering a slow flow yoga class from 10:00-11:00 on Mondays at Prospect Mountain Lodge. This class will meet weekly during the cross country ski season. You will be guided through a relaxed practice with the goals of decreasing stress, increasing physical and mental energy and improving immunity. In order to provide a safe place to practice, the following CDC recommendations will be in place:
All participants must sign in at the start of each class for the purposes of contact tracing
Participants must be vaccinated and show proof of vaccination at their first class
Masks will be worn in the building until you are settled in your chair or on your mat
Bring your own mat and preferred props (blanket, strap, blocks, etc.)
Please e-mail Jen at zippys1@comcast.net if you have questions. The cost of each class is $10 payable by cash or a check made out to Jen. We are excited to offer you this opportunity to enhance your skiing experience at Prospect Mountain!
---
Do you have skis, poles, or boots that your looking to pass on or trade? Do you need new ski supplies and would like to make a deal for free or affordable items? We've recently been asked about facilitating trades and borrows, we strongly recommend that those interested look into Front Porch Forum, an online tool that connects you with people living in your local area to make trades and share information. In the past our various members and supporters have made posts regarding Prospect events, and a search in the topics for skis returns posts about items available or items being searched for. This could be a great way to meet a new friend and fellow Prospect family member. Thank you.
---
Check out this article writen about Prospect Mountain by David Sobel of SentinelSource.com
---
Here is the latest ski report. Today's Conditions
January 17, 2022 - 8:29 am
We are
open

.
Report

We are open. Groomer is out packing trails.We have received 6 to 9 inches of drifty snow. Forecast is for more snow throughout the day and tonight.

 Snow Surface

packed powder  

 New Snow

6" to 9" 

 Base Depth

6" to 9"