Cross country skiing for all ages and skill levels in rural Vermont. Open daily 9-5 (or sundown) in season as conditions allow. Prospect Mountain Nordic is a cross country ski center located in Woodford, Vermont.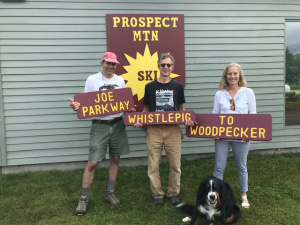 When September rolls around that is a sure "sign" that you should be buying your season pass for the upcoming season. Passes can be purchased by credit card on our site, or purchased the old school way by sending us the attached form. If you purchase online, it is best to use a browser other than Internet Explorer.
Note this year that children 10 and under are free when accompanied by an adult. So, families that meet this description can take a couples pass instead of a family pass. We do ask that you buy a pass for snowshoeing and "skinning up" if this is what you do at Prospect.
Speaking of signs, check out the beautiful new trail signs pictured here donated by (left to right) by Rob Sperber, Jeff Yucht, and Suzy Yucht. Their dog Bella worked hard on these too. This year it is guaranteed that you will not get lost on the mountain and be wandering in the wilderness.
We plan on reviving the Moonlight Skis this year and sponsor and a few other events. As of now we plan of fully opening the lodge.
Looking forward to a great season!
---
Check out this article writen about Prospect Mountain by David Sobel of SentinelSource.com
---
Here is the latest ski report. Today's Conditions
August 30, 2021 - 3:30 pm
We are
closed

.
Report

Thank you all for your support this season it was a great snow year 7 weeks of powder snow over 100 days of skiing .Looking forward to a normal Season next year non covid with the lodge back in use . Again Thank you all your the Best .

 Snow Surface

no snow  

 New Snow

0 

 Base Depth

0