We always enjoy the events held at Prospect, from races to diners and so on. If you missed a certain event, we will do our best to recap photos and details here.
---
Thank you so much to our many volunteers that made our Clean Up Day possible!
---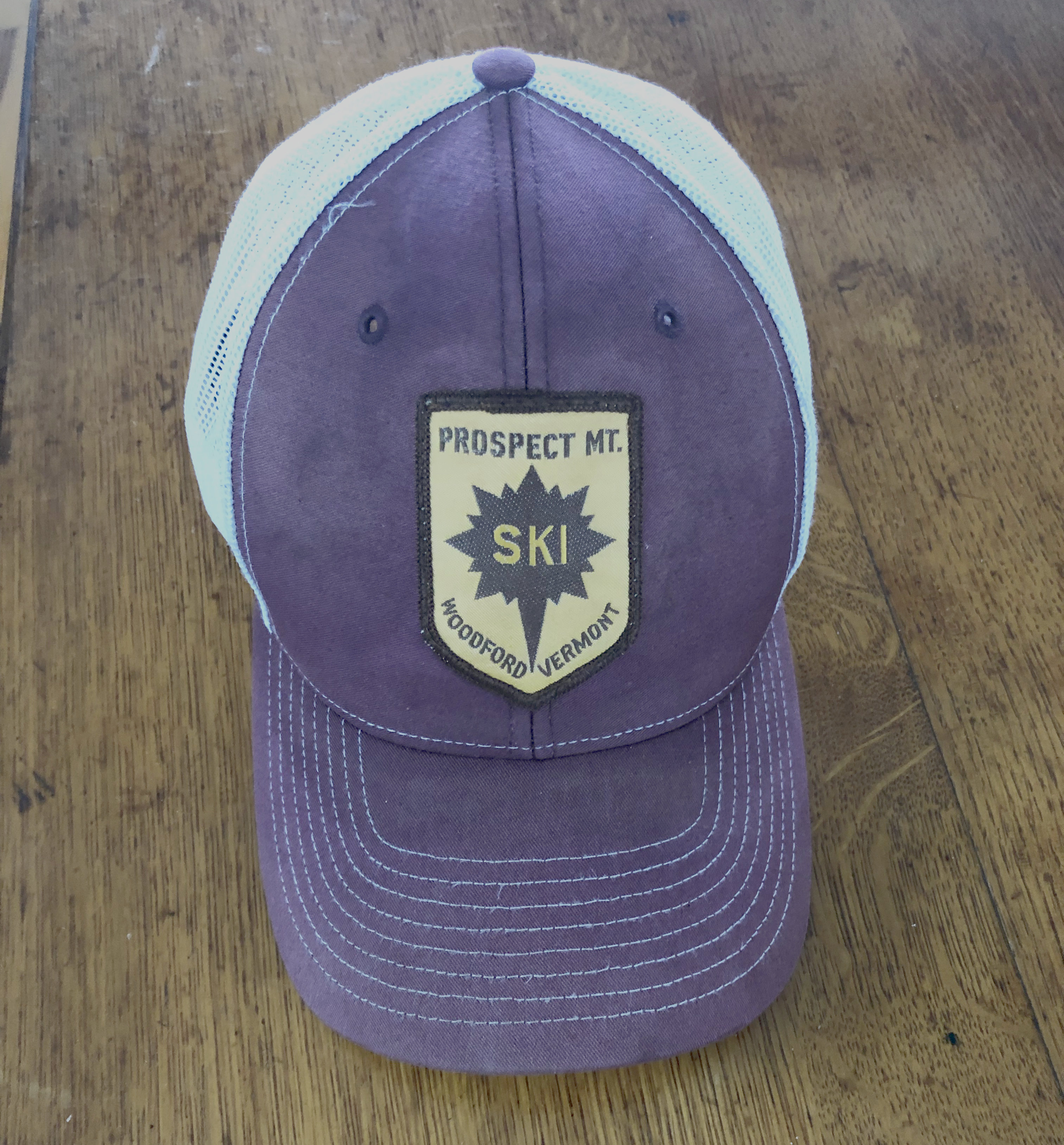 NEW, Prospect Mountain trucker style hat, available at the Shop when the season begins.
---
Vermont Public Radio – Prospect Mountain Conservation Deal Preserves Beloved Nordic Trails
Read or listen to the article online.
---
Donation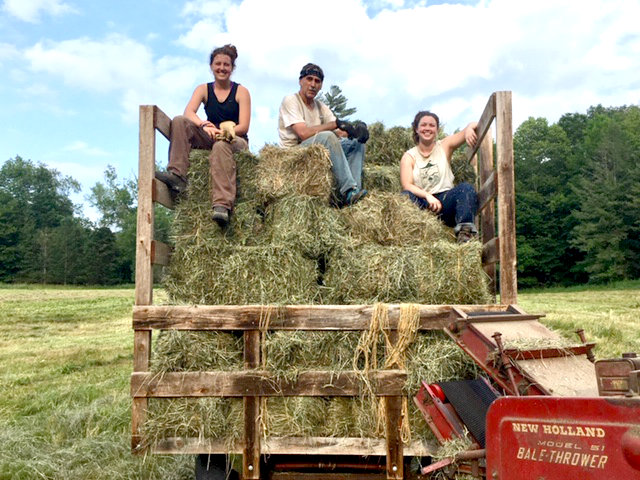 Hay donated by Don Campbell. In the picture is Piper Campbell, Steve Newell, Elsie Campbell.
---
Moonlight Ski and Bonfire January 19th 2019
On this magical snowy evening we had the opportunity to remember Prospect Back in the Day. It was wonderful to see great friends, old and new.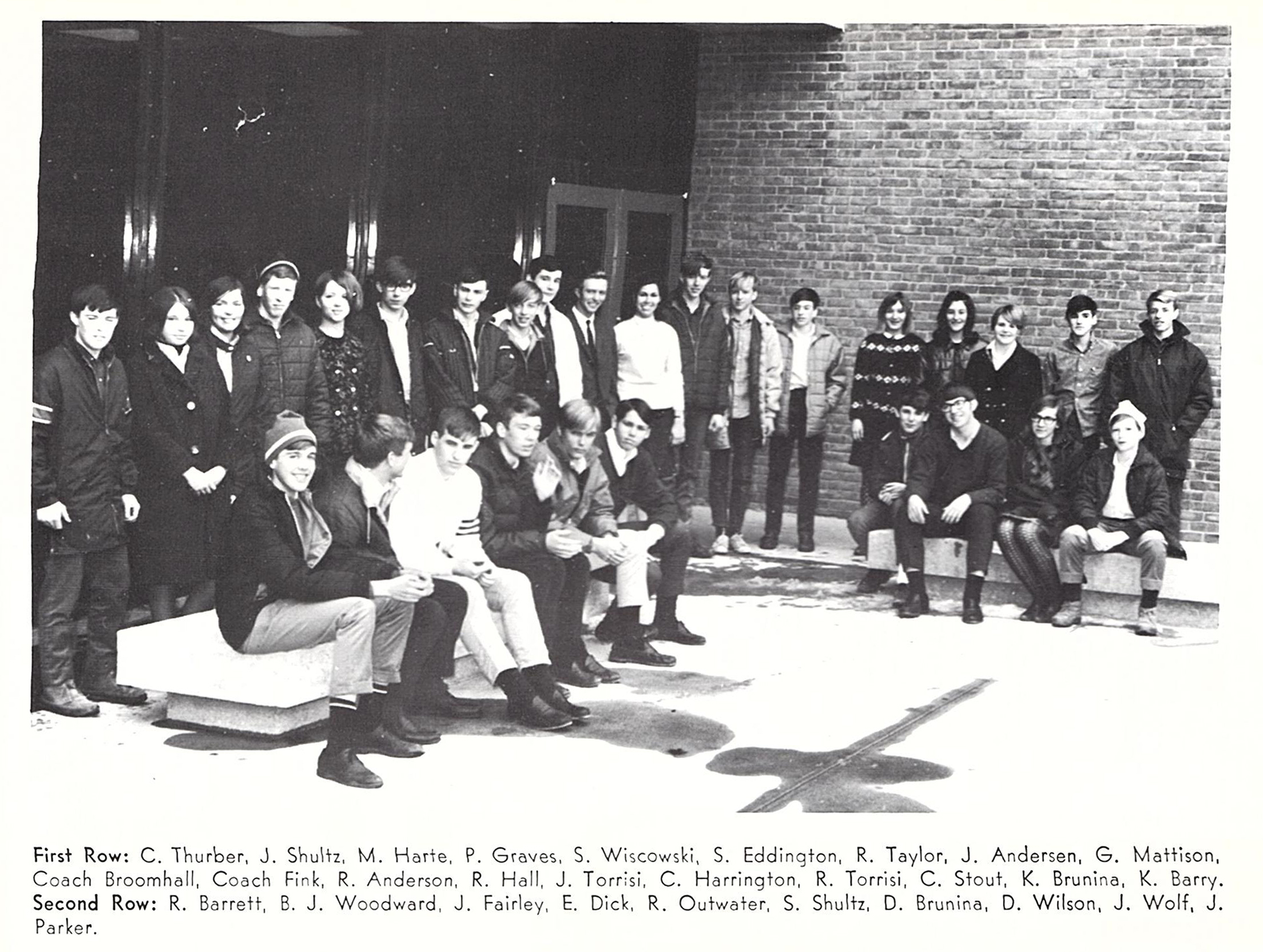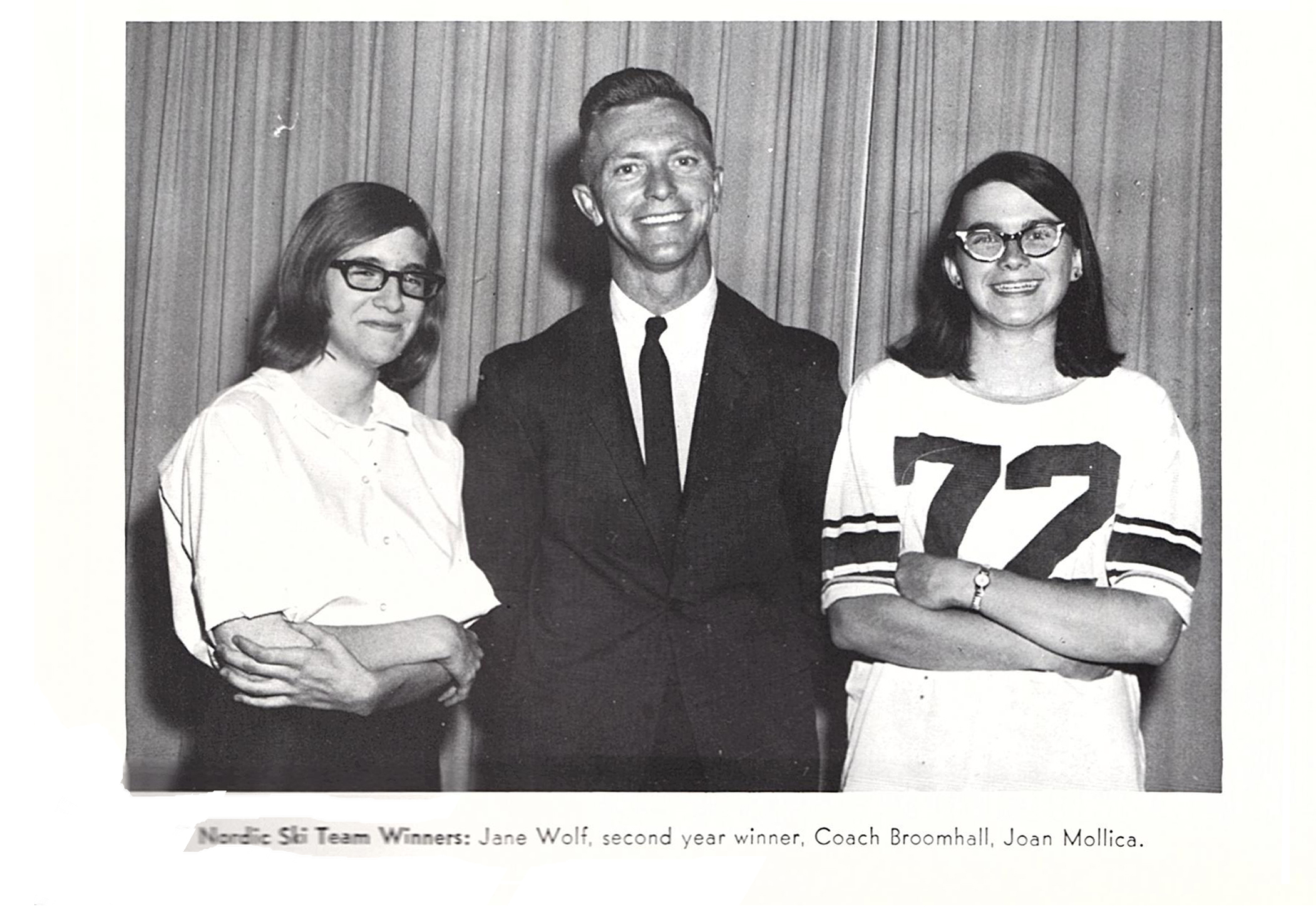 The Winter of '67
In the 40 years I have known David Newell, I have learned to forgive his occasional hyperbole. For anyone who came tonight on the expectation that I am a former skiing great, I will be happy to give you a 10% refund at the end of the program.
I did love to ski, but up to the winter of 1968 "Nordic Skiing" was not on my radar. I joined the ski team after a grueling football season where I played in the pits of the interior line on offense and then turned around and played middle linebacker on defense. Needless to say when I joined Bucky's ski team I thought I was in pretty good shape. There was still no snow, so it was a good chance to do some road-work. We jumped in a van and I soon learned that "road-work, to Bucky, was running the power lines of Woodford. Any ideas I had of being in good shape quickly vanished as we bounded up and down hills and through brambles where a rabbit wouldn't go. Lesson 1, you're going to work on this team, this kind of skiing has nothing to do with snow bunnies.
When the snow came, it came all at once. We loaded our gear into a bus and headed to Prospect in an early season Blizzard. Half way up the Mountain I looked out the window and there was someone skiing full tilt up the side of the road. "Who's that?" I asked. "That's Jane Wolfe skiing up the mountain to practice." Lesson 2, there are people on this team that take this sport VERY seriously.
Coach Broomhall taught us the rudiments of classic skiing, and I caught on pretty quickly, but soon learned there was another expectation. I was introduced to a pair of jumping ski's for the first time. If you have ever heard of ski's being referred to as "boards", this must be where it started. If you go to Home Depot and look at a 1" x 6" x 8 foot board, you're almost there. Now strap them on with a bear-trap binding and a cable around the heal and you get the idea; these babies are made for one thing, going straight and fast. Now don't get me wrong, I liked fast, but I also liked knowing where the brakes were, and in my view, there weren't any.
We were all in the same boat, this was all new. Coach Broomhall took us to a small jump at the Hoosac School to get us started. I think it was a 15 meter jump. This was nothing like the jumps we'd built at Prospect for fun. Those jumps threw you up high enough to do a few aerial tricks. This jump was different. The skis felt clumsy, unforgiving, locked into tracks on an in-run that launched out like a science experiment on the physics of trajectory. My only reference was watching the Olympics on TV but that was a visual as distant as a moon walk. Then Bucky took the jump on his cross country skis, playfully, as if to say, "see boys, no big deal." But still, we had little practice time after school in the short winter days. Prospect didn't have a jump.
Then we got word that we were headed to Brattleboro for a small meet. They had a jump, a trestle jump, 35 meters, 40 meters, it was growing with every telling, and they had lights!
We arrived in Brattleboro after dark, the ride over had been in the company of butterflies, code name for a feeling of anxiety I knew well from Saturday afternoon bus trips to football games, the pre-game jitters. The only cure was that first "game on" hit.
A trestle jump is a wooden tower, and there it was, standing in the cold winter night like the bones of a dinosaur. I wasn't sure I was ready for this. The drill was to climb the tower with skis on your shoulder via steps built alongside the in-run, so jumpers were speeding by you going down as you made your way up. This didn't help the jitters, which seemed to build with each step. I replaced my growing trepidation with a word I always used when facing a slope that pushed my abilities, "attack…attack…attack", a reminder to stay forward even as my brain was telling me to sit back; sit back and you fall.
I remember keeping a tight tuck down the in-run, and that elusive timing on release from the ramp. The landing was remarkably soft on the steep out-run. Like everything in sports, it all happens so quickly, your body either kicks in, or it doesn't.
Practice is everything. Your body has to learn the routine, not your mind. To pick a number, you need 100 jumps to start to really say you're a ski jumper, maybe more. We never got close to 100 jumps. But you don't need 100 jumps to make jumping an experience you'll never forget. I'll always remember jumping at the State Meet in Middlebury that year. The outrun was lined with tall spruce trees, completing the illusion of free flying as the treetops flew by in my peripheral vision. Observers and judges might not agree, but to me, it was beautiful.
Part II
When you walked in to the lodge tonight you walked over a quiet little brook. That brook drains a wetland just to the north. The wetland is fed by runoff from the eastern slope of Prospect Mountain. This little brook joins other little brooks on its way downhill creating the Walloomsac River and the water power that Bennington was built around. The Walloomsac flows into the Hoosac and eventually runs into the Hudson and on to the Atlantic Ocean. This is the power of a little brook. This is the power of a watershed.
32 years after I graduated from MAUHS, my son, Scott skied for Mt. Anthony on the "B" team. He played Varsity Soccer, but asthma kept him out of contention for Varsity Skiing. He loved going to daily practice at Prospect Mountain which gave him the opportunity for scores of bushwacking adventures. He told me recently, that these very adventures were part of what made him go on to study experiential education at UNH, a career he has continued to this day using Nature to help build self-esteem for hundreds of dyslexic children at The Carroll School in Boston. I like to think this Mountain gave him a gift which he is passing forward. This is also the power of a watershed.
There is no way to measure what this Mountain has given to all the families, all the children who have come here to play and explore over the last 80 years. How do you quantify the effect of this Mountain on our community, and the other communities where those children settled. This, too, is part of the Prospect watershed.
Botanist Robin Wall Kimmerer tells us that the natural world is a web of reciprocity. Meaning we receive relative to what we give. These examples hint at some of what Prospect Mountain has given us. We need to ask, what have we given back? What can you give back to a Mountain? Kimmerer suggests it might start by simply giving thanks. That when we approach Nature, we need to stop for a moment, and quietly give thanks for all it does for us. Could giving thanks be what the earth needs from us right now? Could this be the foundational act that opens our hearts, that opens us to join others toward a common goal? Giving thanks takes us beyond politics and economics and makes us of one mind, not with the same answers, but with the same intent.
– John Fairley
---
Thank you to the Prospect Girls!
Elsie Campbellis a college student who worked for us over the Christmas break along with a group of wonderful girls that helped us keep the kitchen running in their free time.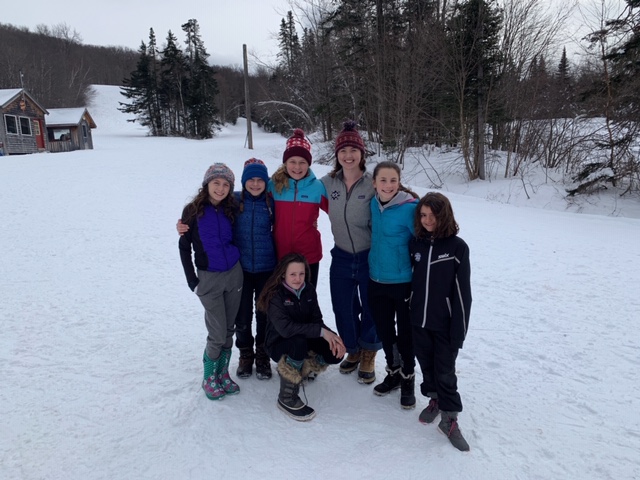 ---
Prospect Mountain Citizen's Race Dec 15 2018