Cross country skiing for all ages and skill levels in rural Vermont. Open daily 9-5 (or sundown) in season as conditions allow. Prospect Mountain Nordic is a cross country ski center located in Woodford, Vermont.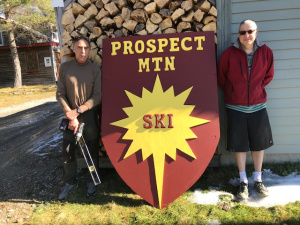 Steve and Al are ready to welcome everyone to the mountain for some fun. All we need is some snow, soon!
---
If you ordered a T-Bar and have not yet received it contact Dave Newell to arrange to pick it up: 802-688-7807 or info@prospectmountain.com
---
Many thanks to the 20+ volunteers who came on Saturday September 26th to get us ready for the season.
---
Here is the latest ski report. Today's Conditions
March 16, 2020 - 2:08 pm
We are
closed

.
Report

Prospect is closed for the season.Thank you all for a terrific season.

 Snow Surface

icy 

 New Snow

0 

 Base Depth

less than 1"