Our Mission
In 2018, PMA, a 501(c)(3) community nonprofit organization based in Bennington, Vermont, was established to purchase, protect and operate Prospect Mountain, a Nordic recreational center in Woodford, Vermont. Prospect Mountain Association's purpose is to support community health and wellbeing by providing groomed cross-country ski trails and programs for a diverse population in the Southern Vermont and Wester Massachusetts communities, and to promote and develope the sport of cross-country skiing through related educational activities for such communities.
Cross country skiing for all ages and skill levels in rural Vermont. Open daily 9-5 (or sundown) in season as conditions allow. Prospect Mountain Nordic is a cross country ski center located in Woodford, Vermont.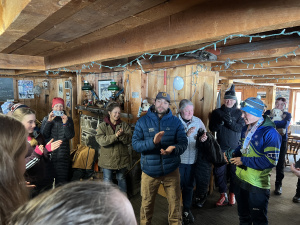 Three Cheers for Luke
Our own MAU skier, Luke Rizio, just got back from Fairbanks Alaska where he placed in the top 10 three times at the Junior National XC Skiing competition. He was named an All American.
Luke also won both individual races at the Vermont State championships this year leading the Patriot boys to their second consecutive state title
---
RECIPROCAL PASS BENEFIT FOR SEASON PASS HOLDERS
Prospect is again enrolled in the Ski Vermont Reciprocal program for the 2022-23 season. This entitles our season pass holders to one free trail pass that can be used at a number of other trail centers in Vermont. A complete list of those locations can be found at skivermont.com
If you need a physical version of our season pass, Al can make one for you in the ticket office once we open.
---
Here is the latest ski report. Today's Conditions
March 22, 2023 - 7:25 am
We are
open

.
Report

Open. Groomed Trackset. Parking Lot will be icy. We are skiing on a frozen granular base. As the day gets warmer it will soften. Our hours are 9am to 5pm. Please be off the trails by 5pm so we can get ready for the next ski day. Rentals are due back before 5pm

 Snow Surface

granular  

 New Snow

0 

 Base Depth

more than 18"