Cross country skiing for all ages and skill levels in rural Vermont. Open daily 9-5 (or sundown) in season as conditions allow. Prospect Mountain Nordic is a cross country ski center located in Woodford, Vermont.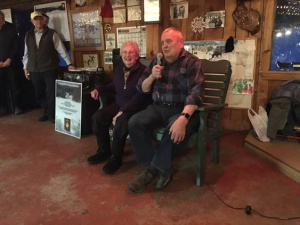 This past week Prospect lost one of its legendary volunteers- The Reverend Tom Steffen.
Tom and his wife Nancy Jean were involved with Prospect for 50 years. We recently named our first building on the right as you enter the ski area "Nancy's Nook" in honor of her tireless commitment working with our youngest Bill Koch skiers- the Lollipoppers.
Pictured above is a photo from an event we held in February of 2019 when we presented Tom and Nancy with a bench inscribed with a plaque honoring their many years of service to our trail center. This bench proudly adorns the back deck of the lodge, and was often used this winter by tired skiers who wanted to rest a bit in the sun with a takeout grilled cheese. As I am sure most of you know, we do have a trail named after them which parallels Woodpecker to the south.
Donny Wassick remembers Tom driving him and other kids to downhill ski races when he was in high school. Robin Outwater recalls Tom as a member of the Prospect ski patrol who's booming voice reminded him and his renegade friends to get back in bounds on the alpine trails.
Nancy joined Bucky Broomhall in 1970 to help coach the kids in the newly formed Torger Tokel League which was founded by Bucky. The name was changed to the Bill Koch Youth Ski League after Bill won a silver medal at the 1976 Olympics. Nancy's calling was to inspire the Lollipoppers who often needed quite a bit of encouragement just to get up the bunny hill.
Tom officiated at countless races at Prospect, both downhill and cross country. The early days of downhill racing featured the use of a top to bottom telephone line. The starter would yell "go" in to the receiver prompting Tom on the other end to start his watch at the finish line. For the cross country races- Tom was not shy about reminding the technical delegates how we did things at Prospect.
We know that Tom's energetic spirit will be with us on the trails as we ski, and in the lodge as we are relaxing with one of Steve's giant cookies.
We are looking forward to seeing you all this season- and to share more memories about Tom and Nancy.
Regards,
PMA Board
---
New Children's Book in the Works
Prospect supporter and Nordic skiing enthusiast Dorothy Wallace-Senft is planning to self-publish a children's book entitled "the Search for Dragon Proof Snow." The Promotional Video for the book will include a drawing of Prospect as well as a few clips of our trail center. If you are interested in helping Dorothy with this project, here is a Kickstarter link below.
https://www.kickstarter.com/projects/dragonproofsnow/the-search-for-dragon-proof-snow
---
Prospect Mountain has updated their official Dog Policy
---
Check out this article writen about Prospect Mountain by David Sobel of SentinelSource.com
---
Here is the latest ski report. Today's Conditions
April 6, 2021 - 9:36 am
We are
closed

.
Report

Thank you all for your support this season it was a great snow year 7 weeks of powder snow over 100 days of skiing .Looking forward to a normal Season next year non covid with the lodge back in use . Again Thank you all your the Best .

 Snow Surface

no snow  

 New Snow

0 

 Base Depth

less than 1"