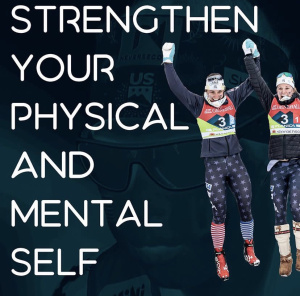 On September 25th Julia Kern and her teammates will be hosting a FREE event on the integration of mental and physical health at the Memory Clinic in Bennington. The event starts at 5:30pm at 357 Shields Drive.
---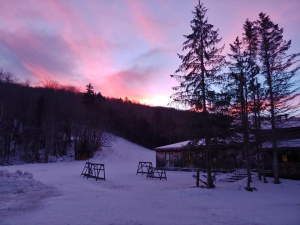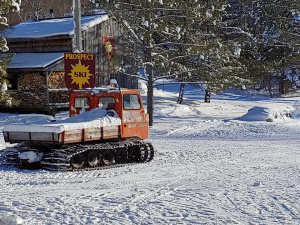 Pre-Season pass discounts now available. Winter is right around the corner.
Click on the Ticket Prices/Passes tab above to print our PDF pass form to mail or use your charge card.
See you all on the mountain
---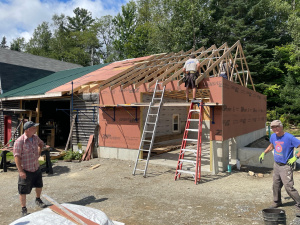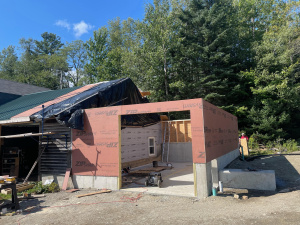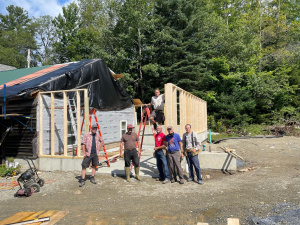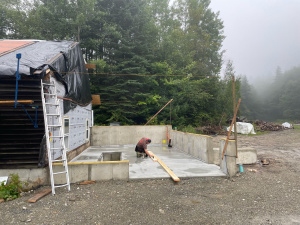 Our off season has been very busy which this year and has featured construction work. Pictured above is the hard working crew (left to right) of Oisin Muldowney, Scott McEnaney, Steve Whitham, Jim Goodine, Dave Newell, and Mike White. Dave Dethier and Al Santopietro were also part of the team.
The project is repairing our garage collapsed roof and building an addition which will serve as the pumphouse for our new snowmaking system. If all goes well we hope to have the system installed beginning next month and operational this season covering about 1.2K of trails.
This was all made possible by the generous support of many of our passholders and friends who contributed to our Striding Forward campaign last year.
Keep an eye out for our season pass email invitation which will go out right after Labor Day.
---
Prospect Mountain Association receives grant from the Killington World Cup Foundation
The PMA board is pleased to announce that we have been awarded a $10,000 grant for the purpose of purchasing youth ski equipment that will be used in our elementary school program.
PMA began a "learn to ski" program last season that offered free equipment use and instruction to all of the elementary schools in the SVSU. It took place on Wednesday afternoons which students now have off during the school year. Monument and Shaftsbury schools participated along with some students from Pownal and some home school students.
Our hope is to expand the program next year and we would welcome additional adult volunteers to serve as instructors. Those interested should email david@prospectmountain.com.
Killington World Cup Foundation
---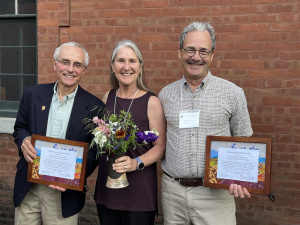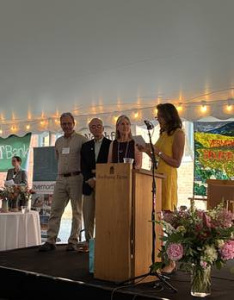 PMA HONORED BY THE VERMONT HOUSING AND CONSERVATION BOARD
The Vermont Housing and Conservation Board recently presented their Outstanding Partnership Award to the Prospect Mountain Association and the Vermont Land Trust as part of their 35th anniversary celebration held on June 15th at Shelburne Farms. Pictured above is Karen Freeman from the VHCB presenting the award to (left to right) Donald Campbell from the VLT and Amie Smith and Dave Newell representing the PMA board.
The award recognizes Prospect's and VLT's conservation of 122 acres of its land in exchange for a grant from the VHCB. The grant was instrumental in supplementing the capital campaign undertaken by PMA enabling the organization to purchase the Prospect Mountain Nordic Trail Center from private owners in 2018. The proclamation reads in part: PMA's efforts to ensure permanent public access to this treasured resource that provides recreational opportunities for student athletes, families, and visitors is important to the economic and social vitality of the region.
---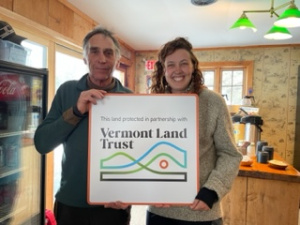 The PMA board would like to express our sincere thanks to all of our season pass holders, volunteers, and everyone who enjoyed our trails this season. It turned out to be our best season since we assumed ownership of Prospect in 2018.
Pictured above is smiling Steve Whitham and Piper Campbell showing off our new Vermont Land Trust sign which they delivered to us recently. Donald Campbell and the VLT were instrumental in assisting us with our efforts to acquire Prospect along with the Vermont Housing and Conservation Board.
Special thanks to our very hard working regular staff which in addition to Steve included Bruce and Jen Smith, Oisin Muldowney, Al Santopietro, and Mike White. We also appreciate the efforts of several Mt Anthony students as well.
We have a busy off season planned and will provide updates on our progress later in the summer.
Best to all this spring, summer, and fall- and we hope to see everybody on the mountain when we open next winter.
Best Regards,
PMA Board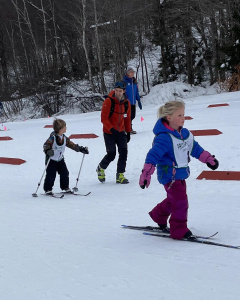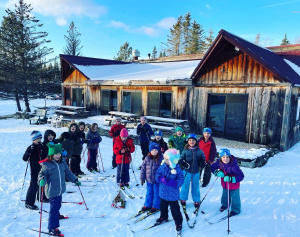 ---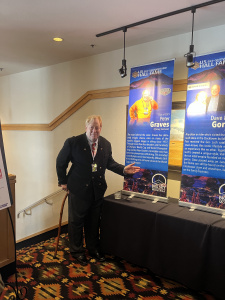 Bennington and Prospect's Peter Graves Honored
Peter Graves, a former MAU skier coached by Bucky Broomhall and world renowned skiing journalist and announcer, was recently inducted in to the U.S. Ski and Snowboard Hall of Fame at a ceremony in Big Sky Montana. Peter grew up skiing at Prospect and helped advise the owner of Prospect in 1982, Joe Parks, to install the first cross country trails at Prospect.
Peter skied for Fort Lewis College after high school and began his broadcasting career in 1977. He has announced and served as a commentator for the American Birkebeiner, numerous World Cup events, and the Olympic games in 1980,1984, and 1988. He was also the cross country ski coach at Harvard from 2002-2008.
Peter's love of Nordic skiing is infectious and his vast knowledge base about the sport is among the best in the world.
The entire Prospect Community is pleased to offer Peter the heartiest of congratulations.
---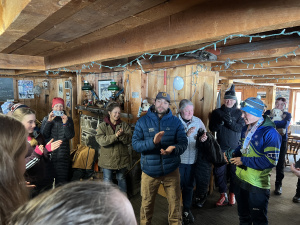 Three Cheers for Luke
Our own MAU skier, Luke Rizio, just got back from Fairbanks Alaska where he placed in the top 10 three times at the Junior National XC Skiing competition. He was named an All American.
Luke also won both individual races at the Vermont State championships this year leading the Patriot boys to their second consecutive state title
---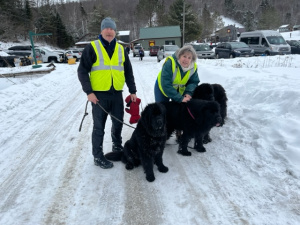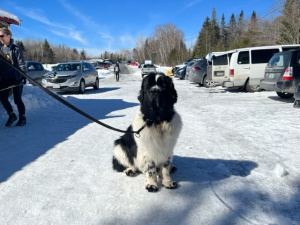 The Newfoundland Club of New England had a lively two day competition at Prospect that featured these beautiful, very well behaved, dogs. The event included some parading, sled pulling, and agility drills. Our skiers had a great time watching them.
---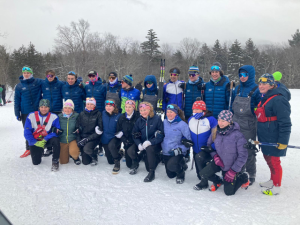 MAU Patriots State Champions
The MAU XC Ski team just finished an impressive Vermont State championship competition at the Rikert Trail Center in Ripton, Vt.
The boys captured their second consecutive state title with senior Luke Rizio winning the individual classic race. The girls finished a strong second.
Congrats to all of the kids and coach Robbie Short. PMA is proud to provide the training venue for these athletes at Prospect.
---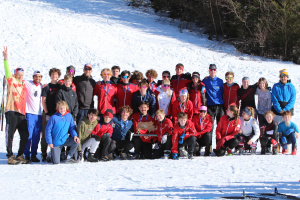 Mt. Greylock boys win Mass State championships, girls third. Quinn McDermott won the boys individual race.
Congrats to all the kids and coach Hillary Greene. We are proud to have these athletes train and race at Prospect.
---
RECIPROCAL PASS BENEFIT FOR SEASON PASS HOLDERS
Prospect is again enrolled in the Ski Vermont Reciprocal program for the 2022-23 season. This entitles our season pass holders to one free trail pass that can be used at a number of other trail centers in Vermont. A complete list of those locations can be found at skivermont.com

If you need a physical version of our season pass, Al can make one for you in the ticket office once we open.
---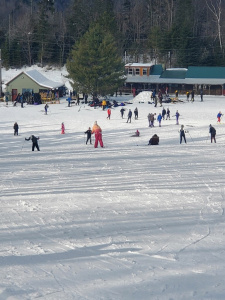 Prospect Mountain Association offers a free XC skiing program to local elementary schools on SVSU's half-day Wednesdays this winter:
Over the past 7 years, The New England Nordic Ski Association (NENSA) Nordic Rocks program, a school based introductory learn to ski program, has brought the joy of cross country skiing to several thousand kids all over the Northeast. Nordic Rocks provides elementary school students with an opportunity to experience cross country skiing during the school day with their teachers and classmates, and to learn the health and lifestyle benefits associated with exercise and outdoor fun with easy to use fishscale skis and snowshoe type bindings. The overarching goal of this program is to provide all children with an opportunity to ski.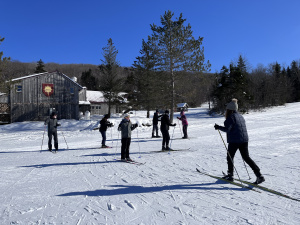 This winter, the Prospect Mountain Association (PMA), the volunteer lead nonprofit that oversees Prospect Mountain Nordic Center in Woodford Vermont, has taken this learn to cross country ski opportunity one step further. PMA has reached out to local elementary schools in the Southwestern Vermont Supervisory Union (SVSU) who have Nordic Rocks program in place, to offer them the opportunity to ski at Prospect Mountain on their 8 half-day Wednesdays during January, February, and March. This winter, students from Shaftsbury Elementary, Monument Elementary, and Pownal Elementary are taking advantage of this free program. PMA has offered these schools free rental equipment, free trail passes, and free instruction for 2 hours on these Wednesday half days. The kids have just loved this program and the opportunity to ski on full sets of equipment at a real cross country ski venue and have lessons from the wonderful group of PMA coach volunteers.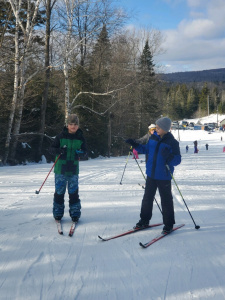 The goal of Nordic Rocks has always been to be an introductory ski program, with the goal of kids having the opportunity to "graduate" to other ski programs in their area when appropriate. The Prospect Mountain Wednesday half day program fulfills this Nordic Rocks goal and is right in line with Prospects mission to provide opportunities for kids to learn to ski and embrace and enjoy our Vermont winters. Amie W. Smith, PMA Board member, has been spearheading this new half day Wednesday winter program at the Prospect Mountain Nordic Center. She, and the PMA Board, feel strongly about having the local school kids learn to ski, and experience our wonderful local resource that is Prospect Mountain! The PMA Board's goal is to one day have every elementary school in the SVSU be a part of this program and offer XC skiing to every child who wants to learn.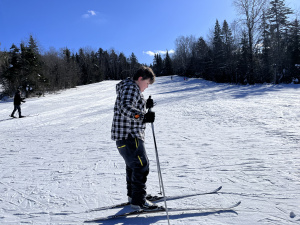 Another local option for youth to learn to ski is the Bill Koch League (BKL) Youth Program which is also offered at Prospect Mountain on Tuesday and Thursday after school. Both progression and opportunity are important in learning to cross country ski. Progression is the age and skill level movement to more advanced opportunities. Opportunities are now available for our local Southern Vermont community youth with both the PMA half day Wednesday learn to ski program, and in the BKL program offered at Prospect Mountain.
---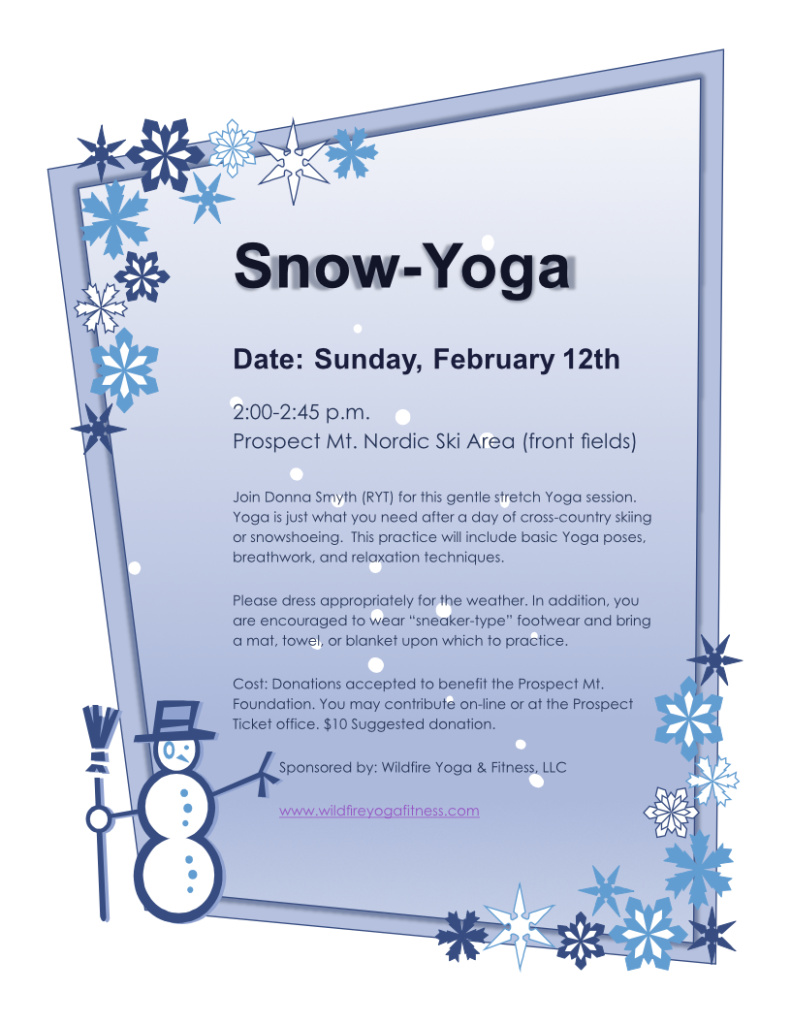 ---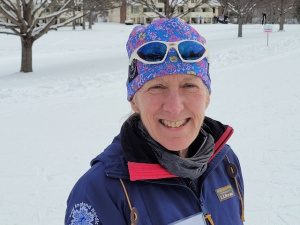 PROSPECTHERS WOMEN'S SKI CLINICS SCHEDULED FOR FEBRUARY 9, 16, AND 23.
The Prospect Mountain Association is please to announce the sponsorship of a women's ski clinic to be held on the dates listed above. The instructor is Donna Smyth, Ed.D, RYT, who has been teaching and coaching skiing for the past 30 years.
The sessions on each day are as follows:
9:30- 10:45- Classic With Ease
11:15-12:30- Beginner Skate
12:45-2:00- Beyond Beginner Skate
We are suggesting that folks sign up for all three sessions. The sessions are sequential which is why that makes sense. Most people will probably find it best to do one session per day. We do require that a minimum of three people sign up for each session in order for them to take place.
The cost for all three sessions is $75. Donna is graciously donating a portion of the proceeds from these sessions back to Prospect. Participants who are not Prospect pass holders will be asked to purchase a day pass as well. The fee for the sessions will be payable in our ticket office. The session fee is non-refundable. If snow/weather conditions prevent a session from taking place, we will schedule a make-up day in March. Ski equipment can be rented at the ticket office if necessary.
Women interested in participating should complete the attached registration form and email it to: wildxc@comcast.net. For further information you can email Donna at that address or call her at 802-579-3360.
Regards,
PMA Board
---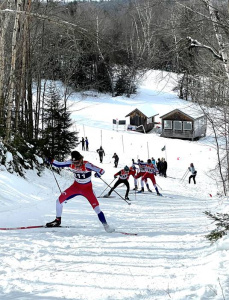 PROSPECT SPRINTS SCHEDULED FOR SUNDAY JANUARY 29
The second annual Prospect Sprints will be help this Sunday, January 29 beginning at 11am. This event only involves a 1.2K loop at the base of the mountain behind the lodge and the timing building. So, Woodpecker and all the trails on that side as well as Shea's on the other side will be fully open for recreational skiing.
Folks interested in participating in the event can register at Skireg.com or the day of the race beginning at 9am in Nancy's Nook.
---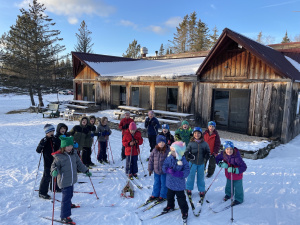 The BKL lids had a great practice on Tuesday, January 10. Afterwards they enjoyed tasting a gingerbread house made by Andy Newell and Erika Flowers during the holidays. This will certainly make them ski much faster.
Special thanks to all the parents and coaches who help with this program.
---
The recent snow dusting and colder weather has us all in the mood for the upcoming winter and sliding around on our new and improved trails.
Pictured below are some exciting new swag that will be in the ticket office. On the left is a zip up poly shirt that we have in navy and black. On the right, one of three new colors of our long sleeve T- shirt. The other two are grey and teal. Above are some new Skida hat designs and our wildly popular trucker hat that now comes in navy and grey.
The second photo is our general manager, Steve Whitham, with Nordic enthusiast Brett Bedard and our snappy new plow truck we just purchased from Bedard Brothers. Steve is so excited about the truck that he almost smiled in this photo.
We hope to see you all on the mountain soon.
Regards,
PMA Board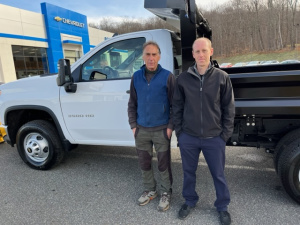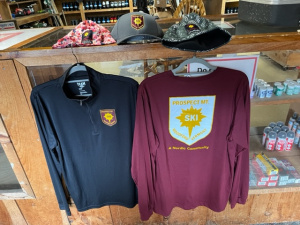 ---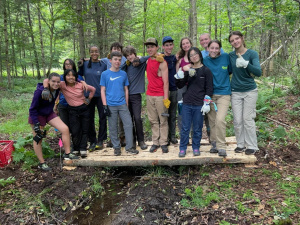 Pictured above are some student volunteers who are participating in the Overland Summer program based in western Massachusetts. These fine young folks helped us clear some of our snowshoe trails and build the bridge pictured above under the guidance of PMA board member Dave Dethier on July 1. Two other sessions are planned for July 15 and August 2. Their help was much appreciated.
---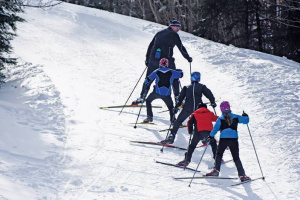 The PMA board is pleased to announce the "Striding Forward" capital campaign which is designed to support some exciting new initiatives on the mountain. We think these projects will be transformative for Prospect, and help secure our future as one of the premier Nordic skiing trail centers in all of New England.
Attached is our case statement for the campaign. Our total goal is $675,000. The three main areas of emphasis are trail expansion, phase one of a snowmaking system, and some lodge improvements.
We are off to a great start. If you have already made a pledge, please accept our sincere thanks. In addition- as is explained on the last page- we have received a foundation grant for $100,000, and we have a very generous offer from a leadership donor to match what we raise 2 for 1 when we hit $175K. So- our goal of $675,000 is within reach.
Please consider making a donation if you have not done so already. You can donate on our Support page. If you are interested in doing a three year pledge- or donating appreciated stock- email Dave Newell at david@prospectmountain.com. Many of you will also receive this brochure in the mail along with a stamped return envelope.
We are always amazed at the strong support Prospect enjoys from hundreds of pass holders and volunteers. We know we can count on everyone again to help us reach this goal.
Our Best Regards,
Striding Forward Campaign Committee
Meg and Donald Campbell
Terry Coffield
Dave Dethier
Lew Fisher
Steve Fogel
Tom Kelly
Dave Newell
---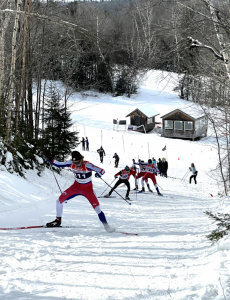 A good time was had by all At the Prospect Sprints last Sunday. 30 skiers competed which included athletes from the Mt. Anthony ski team, Stratton Mountain School, and Williams College.
The course, designed by PMA board member Dave Dethier, was challenging but well received by all who participated.
Many thanks to the volunteers who helped us run the event, and to Prospect general manager Steve Whitham for his world class grooming.
---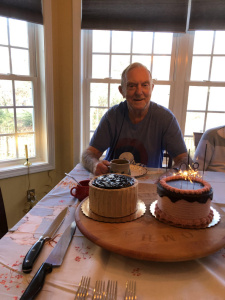 Happy 90th birthday to Bucky Broomhall. He does not look a day of it!
Bucky has been involved with Prospect for 50+ years as the coach of the MAU ski team and the founder of what is now the Bill Koch Ski League. He provided tremendous coaching advice and expert waxing services to countless numbers of young skiers during this time. Our waxing room is named after him.
Bucky was inducted in to the Vermont Ski Museum Hall of Fame a few years ago. If you wish to send Bucky a card his address is PO Box 134, Shaftsbury, Vt. 05262.
---
COVID-19 Update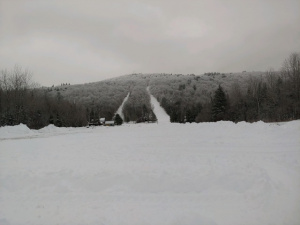 The lodge, ticket office, and Nancy's Nook will be fully open this year. We are requiring that masks be worn at all times, even if you are vaccinated, except when eating and drinking.
---
Jen Clarkson-Smith is offering a slow flow yoga class from 10:00-11:00 on Mondays at Prospect Mountain Lodge. This class will meet weekly during the cross country ski season. You will be guided through a relaxed practice with the goals of decreasing stress, increasing physical and mental energy and improving immunity. In order to provide a safe place to practice, the following CDC recommendations will be in place:
All participants must sign in at the start of each class for the purposes of contact tracing
Participants must be vaccinated and show proof of vaccination at their first class
Masks will be worn in the building until you are settled in your chair or on your mat
Bring your own mat and preferred props (blanket, strap, blocks, etc.)
Please e-mail Jen at zippys1@comcast.net if you have questions. The cost of each class is $10 payable by cash or a check made out to Jen. We are excited to offer you this opportunity to enhance your skiing experience at Prospect Mountain!
---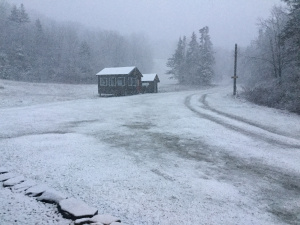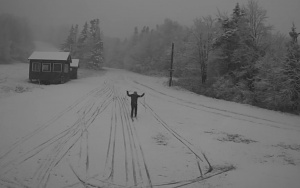 Mother nature just gave us a bit of a teaser which got us all fired up for skiing as evidenced below. It won't be long!
Just a few notes about our facilities: The Lodge, Nancy's Nook, and the ticket office will be fully open this year. We are asking folks to wear a mask, even if vaccinated, at all times except when eating or drinking.
Al has the ticket office and our retail/rental shop ready to go. We have a fine selection of merchandise including short and long sleeve T-shirts, Skida hats (more coming soon), cocktail glasses, and coffee mugs (coming soon) among other things.
We will be holding the Moonlight Skis beginning January, 15. More information about those will be emailed right after January 1.
Check the calendar for news of races and other events.
We hope to see everyone on the mountain soon.
---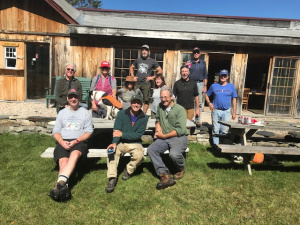 Many thanks to the 20 plus volunteers who showed up to help with some trail work and sign installation on Saturday the 24th. Here is a shot of some of these good looking folks.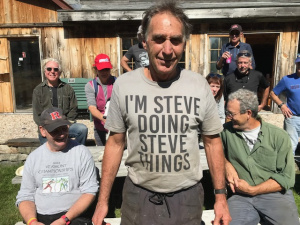 Steve Whitham was also doing "Steve things" as only he can do as evidenced by his custom designed t- shirt.
Don't forget there is still time to get the September discount on the season passes. They can be charged right on the website. We hope to see everybody on the mountain sliding around in late November (are we dreaming!)
---
When September rolls around that is a sure sign that you should be buying your season pass for the upcoming season. Passes can be purchased by credit card, or purchased the old school way by sending us the attached form. If you purchase online, it is best to use a browser other than Internet Explorer.
Note this year that children 10 and under are free when accompanied by an adult. So, families that meet this description can take a couples pass instead of a family pass. We do ask that you buy a pass for snowshoeing and "skinning up" if this is what you do at Prospect.
Speaking of signs, check out the beautiful new trail signs pictured here donated by (left to right) by Rob Sperber, Jeff Yucht, and Suzy Yucht. Their dog Bella worked hard on these too. This year it is guaranteed that you will not get lost on the mountain and be wandering in the wilderness.
We plan on reviving the Moonlight Skis this year and sponsor and a few other events. As of now we plan of fully opening the lodge.
Looking forward to a great season!
>hr />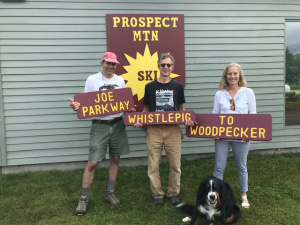 When September rolls around that is a sure "sign" that you should be buying your season pass for the upcoming season. Passes can be purchased by credit card on our site, or purchased the old school way by sending us the attached form. If you purchase online, it is best to use a browser other than Internet Explorer.
Note this year that children 10 and under are free when accompanied by an adult. So, families that meet this description can take a couples pass instead of a family pass. We do ask that you buy a pass for snowshoeing and "skinning up" if this is what you do at Prospect.
Speaking of signs, check out the beautiful new trail signs pictured here donated by (left to right) by Rob Sperber, Jeff Yucht, and Suzy Yucht. Their dog Bella worked hard on these too. This year it is guaranteed that you will not get lost on the mountain and be wandering in the wilderness.
We plan on reviving the Moonlight Skis this year and sponsor and a few other events. As of now we plan of fully opening the lodge.
Looking forward to a great season!
---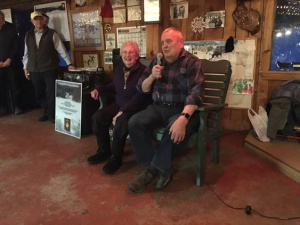 This past week Prospect lost one of its legendary volunteers- The Reverend Tom Steffen.
Tom and his wife Nancy Jean were involved with Prospect for 50 years. We recently named our first building on the right as you enter the ski area "Nancy's Nook" in honor of her tireless commitment working with our youngest Bill Koch skiers- the Lollipoppers.
Pictured above is a photo from an event we held in February of 2019 when we presented Tom and Nancy with a bench inscribed with a plaque honoring their many years of service to our trail center. This bench proudly adorns the back deck of the lodge, and was often used this winter by tired skiers who wanted to rest a bit in the sun with a takeout grilled cheese. As I am sure most of you know, we do have a trail named after them which parallels Woodpecker to the south.
Donny Wassick remembers Tom driving him and other kids to downhill ski races when he was in high school. Robin Outwater recalls Tom as a member of the Prospect ski patrol who's booming voice reminded him and his renegade friends to get back in bounds on the alpine trails.
Nancy joined Bucky Broomhall in 1970 to help coach the kids in the newly formed Torger Tokel League which was founded by Bucky. The name was changed to the Bill Koch Youth Ski League after Bill won a silver medal at the 1976 Olympics. Nancy's calling was to inspire the Lollipoppers who often needed quite a bit of encouragement just to get up the bunny hill.
Tom officiated at countless races at Prospect, both downhill and cross country. The early days of downhill racing featured the use of a top to bottom telephone line. The starter would yell "go" in to the receiver prompting Tom on the other end to start his watch at the finish line. For the cross country races- Tom was not shy about reminding the technical delegates how we did things at Prospect.
We know that Tom's energetic spirit will be with us on the trails as we ski, and in the lodge as we are relaxing with one of Steve's giant cookies.
We are looking forward to seeing you all this season- and to share more memories about Tom and Nancy.
Regards,
PMA Board
---
Prospect Mountain has updated their official Dog Policy
---
New Children's Book in the Works
Prospect supporter and Nordic skiing enthusiast Dorothy Wallace-Senft is planning to self-publish a children's book entitled "the Search for Dragon Proof Snow." The Promotional Video for the book will include a drawing of Prospect as well as a few clips of our trail center. If you are interested in helping Dorothy with this project, here is a Kickstarter link below.
https://www.kickstarter.com/projects/dragonproofsnow/the-search-for-dragon-proof-snow
---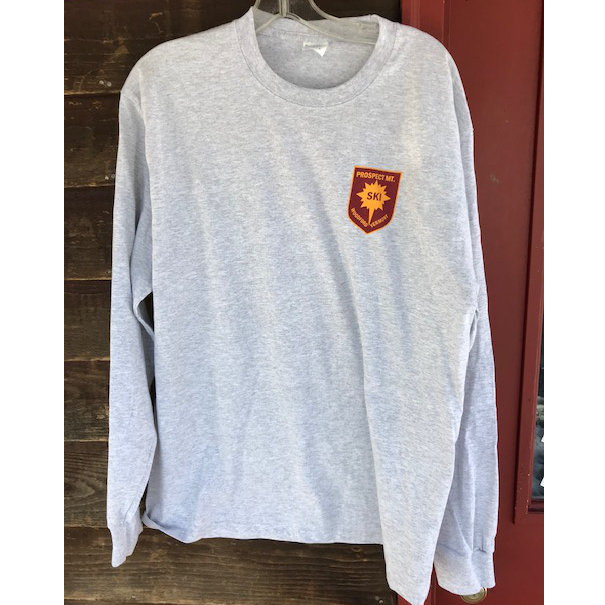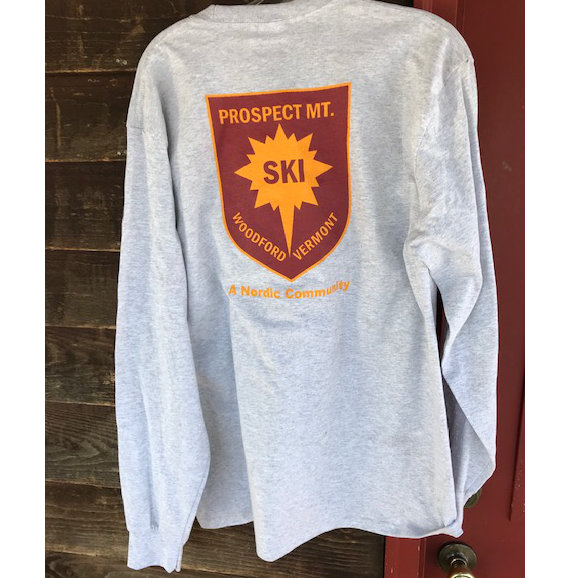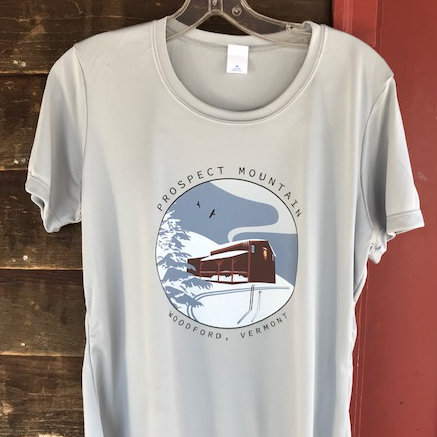 More Great Shirts at Prospect
The heathered grey long sleeve T is now available at the ticket office along with a beautiful new design featuring an image of the lodge.
The new shirt was designed and donated by Sara Reynolds and her daughter, Julia. It is truly stunning, and is made of an ultra-comfortable performance fabric. $20 each.
Here is a message from Sara Reynolds about the shirts:
" Middle daughter Julia Seyferth is the artist who created the shirt design. Her art tends to be more along the line of naturalist illustration but she had done some graphic design for Sun Valley Ski Education and she knows and loves Prospect well. It has been 30 years since she met Prospect as a one year old in a backpack on my back. Sending along a couple of photos of her and others enjoying Prospect, in about 2001 with family and in 2008 celebrating a State Championship win with her teammates.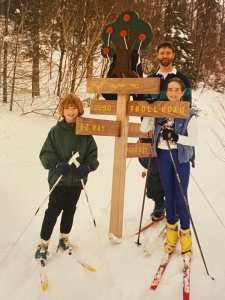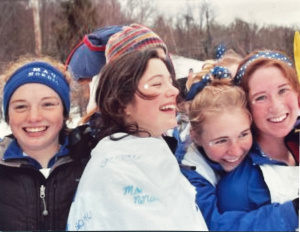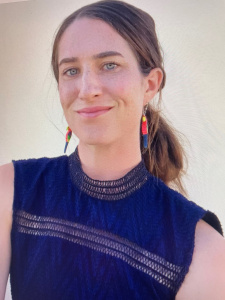 I think she captured some of what I love most about Prospect. Skiing of course with the inviting tracks that wind up and around the lodge. Nature with snow covered firs and the ravens up high (love those birds and it's unusual for me NOT to hear or see a pair when up there). And the lodge, which I think everyone who loves Prospect is missing this year, complete with wood pile, Prospect logo, and smoke rising from the fireplace….I hope others enjoy this Prospect art and buy lots of shirts!"
---
Cross State Travel has been eased for border town to Vermont

Good news for our neighbors in Williamstown, the Vermont Health Department has eased travel restrictions for neighboring towns. A border town is considered a town that is within 5 miles of the Vermont border. Quarantine will no longer be necessary if you travel into Vermont from these towns. You must continue to follow the COVID-19 prevention measures, including wearing a mask and staying at least 6 feet from away people you don't live with, when you are in a border town in Vermont or in a neighboring state.
---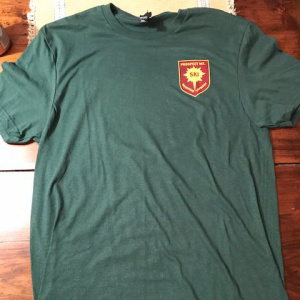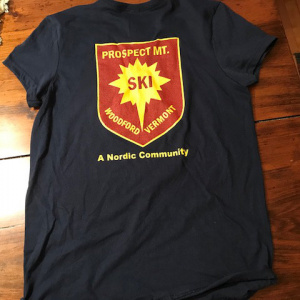 Exciting New Retail Items Now Available!
Just in time for the spring skiing season, we have three new classic Prospect "Nordic Community" T shirts now available in the ticket office Wednesday through Sunday, and at the lodge takeout window Monday and Tuesday. And- the award winning 11oz cocktail glasses are also back. Perfect for your post-skiing celebrations.
The T-shirts feature 3 new colors: forest green, navy, and heathered grey. The grey ones are long sleeve and are not pictured here. They will be available Monday, March 8. The green and navy ones are short sleeve and are available now. The navy short sleeve T's are a fitted design. All sizes available! The iconic Prospect logo is on the front and back of all the shirts as shown here.
The shirts are comfortable all cotton. Glasses are $10 and the shirts $20.
---
Check out this article writen about Prospect Mountain by David Sobel of SentinelSource.com
---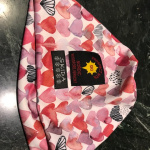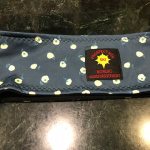 Exciting new Skida hats and head bands just arrived in the ticket office. Stop in and check them out.
A new T-shirt design will be debuted soon generously donated by Sara Reynolds and her daughter. Also- snappy new colors on our classic Prospect shirts arriving soon as well.
---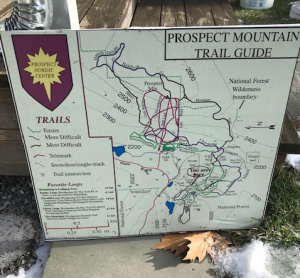 Classic Prospect Relics Now For Sale SOLD OUT
We will have larger maps up next year, but in the meantime we took these down and are using the temporary smaller ones this year.
The maps vary in condition- but they all look good enough to be installed in your rec room.
Thank you!
---
Download the Proposal for the "Greening" of Prospect Mountain. Thank you to the Environmental Studies students of Williams College for their hard work.
---
Prospect Mountain Snowmaking Report (2020)
---
Learn about Prospect Mountain's new Wax Policy. Do you know what's in your wax?
---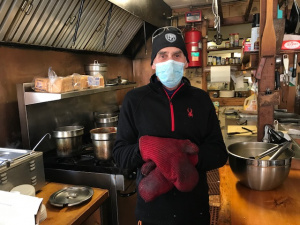 Moonlight Ski is back!
You can't tell, but Steve Whitham is smiling. Our snow is great so Steve has volunteered to make a bonfire on the Beaver Pond this Saturday, January 30. Arrive at 7pm and bring your own provisions.
---
Racing Returns to Prospect This Weekend (Jan 23 and 24 2021) with the NENSA Vermont Cup!
The New England Nordic Ski Association has selected Prospect Mountain to host two classic technique races on Saturday and Sunday January 23rd and 24th. Prospect will remain open for recreational skiing all weekend.
The races will involve about 100 skiers each day. Racers will start at 30 second intervals with time between groups. No spectators will be on site. All racers are VT residents. Races begin at 10am and will finish at about 3 PM.
Saturday is a sprint competition that will take place in the area around the lodge and base of the mountain and will not interfere with skiing on most of our trails. Sunday's race is longer, and will involve more trails including Woodpecker, Boomerang, Whistlepig, Workout, and 1/3 among others. We will have signs up reminding skiers to look out for the racers and not to skate over the classic tracks, and course marshals helping to direct traffic. All trails over at the Greenwood Lodge will be open and not involved in the competition.
It should be a great weekend for all! The conditions are excellent!
---
Many thanks to the 20+ volunteers who came on Saturday September 26th to get us ready for the season.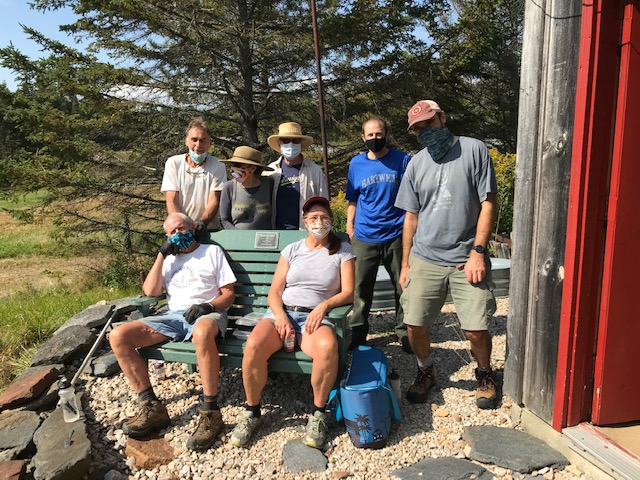 ---
2020-2021 Season COVID-19 Updates
Please stay healthy and safe.
---
---
To all Friends of Prospect:
On behalf of the Prospect board and staff, please accept out sincere thanks for the great support and enthusiasm all of you provided for us this year. It was certainly a challenging season weather-wise. However, Steve and our talented crew did a fabulous job keeping us going. We will sorely miss Elsie next year who is off to graduate school to pursue a doctorate in Philosophy.
Regards,
PMA Directors