Prospect Mountain has updated their official Dog Policy
---
New Children's Book in the Works
Prospect supporter and Nordic skiing enthusiast Dorothy Wallace-Senft is planning to self-publish a children's book entitled "the Search for Dragon Proof Snow." The Promotional Video for the book will include a drawing of Prospect as well as a few clips of our trail center. If you are interested in helping Dorothy with this project, here is a Kickstarter link below.
https://www.kickstarter.com/projects/dragonproofsnow/the-search-for-dragon-proof-snow
---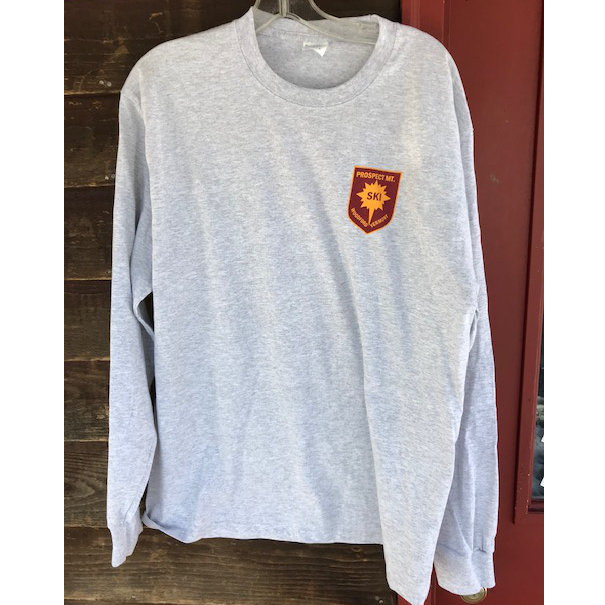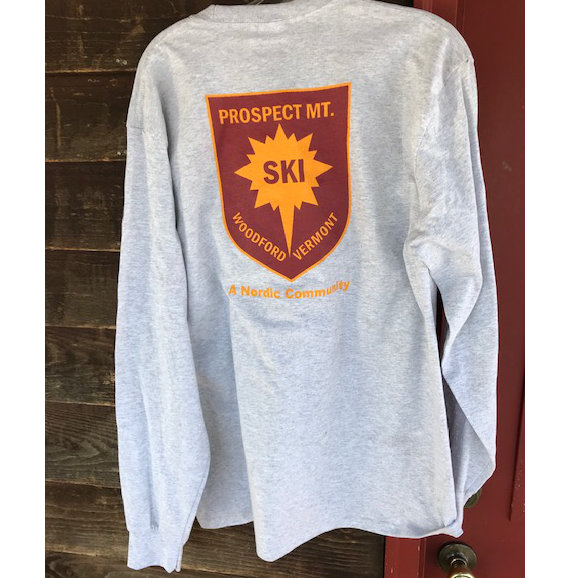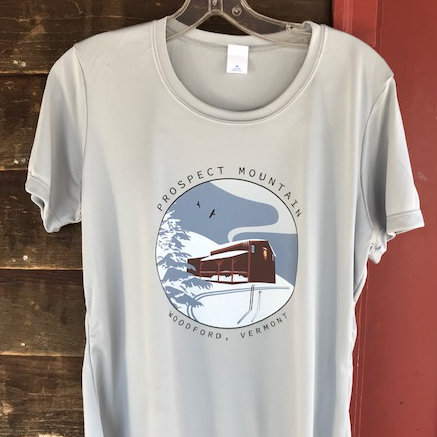 More Great Shirts at Prospect
The heathered grey long sleeve T is now available at the ticket office along with a beautiful new design featuring an image of the lodge.
The new shirt was designed and donated by Sara Reynolds and her daughter, Julia. It is truly stunning, and is made of an ultra-comfortable performance fabric. $20 each.
Here is a message from Sara Reynolds about the shirts:
" Middle daughter Julia Seyferth is the artist who created the shirt design. Her art tends to be more along the line of naturalist illustration but she had done some graphic design for Sun Valley Ski Education and she knows and loves Prospect well. It has been 30 years since she met Prospect as a one year old in a backpack on my back. Sending along a couple of photos of her and others enjoying Prospect, in about 2001 with family and in 2008 celebrating a State Championship win with her teammates.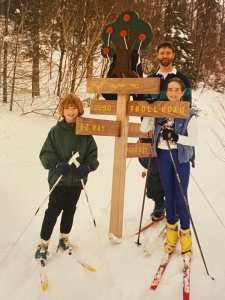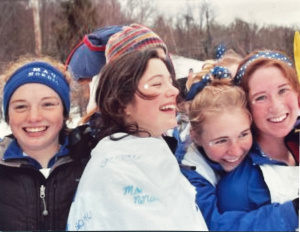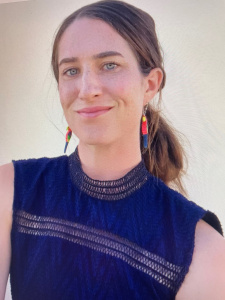 I think she captured some of what I love most about Prospect. Skiing of course with the inviting tracks that wind up and around the lodge. Nature with snow covered firs and the ravens up high (love those birds and it's unusual for me NOT to hear or see a pair when up there). And the lodge, which I think everyone who loves Prospect is missing this year, complete with wood pile, Prospect logo, and smoke rising from the fireplace….I hope others enjoy this Prospect art and buy lots of shirts!"
---
Cross State Travel has been eased for border town to Vermont

Good news for our neighbors in Williamstown, the Vermont Health Department has eased travel restrictions for neighboring towns. A border town is considered a town that is within 5 miles of the Vermont border. Quarantine will no longer be necessary if you travel into Vermont from these towns. You must continue to follow the COVID-19 prevention measures, including wearing a mask and staying at least 6 feet from away people you don't live with, when you are in a border town in Vermont or in a neighboring state.
---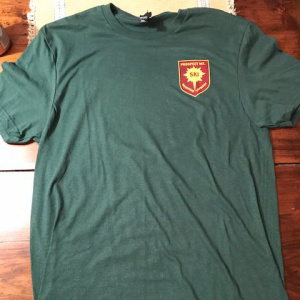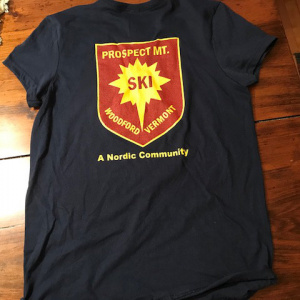 Exciting New Retail Items Now Available!
Just in time for the spring skiing season, we have three new classic Prospect "Nordic Community" T shirts now available in the ticket office Wednesday through Sunday, and at the lodge takeout window Monday and Tuesday. And- the award winning 11oz cocktail glasses are also back. Perfect for your post-skiing celebrations.
The T-shirts feature 3 new colors: forest green, navy, and heathered grey. The grey ones are long sleeve and are not pictured here. They will be available Monday, March 8. The green and navy ones are short sleeve and are available now. The navy short sleeve T's are a fitted design. All sizes available! The iconic Prospect logo is on the front and back of all the shirts as shown here.
The shirts are comfortable all cotton. Glasses are $10 and the shirts $20.
---
Check out this article writen about Prospect Mountain by David Sobel of SentinelSource.com
---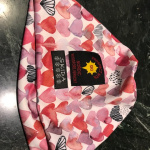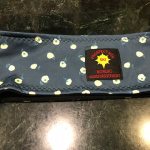 Exciting new Skida hats and head bands just arrived in the ticket office. Stop in and check them out.
A new T-shirt design will be debuted soon generously donated by Sara Reynolds and her daughter. Also- snappy new colors on our classic Prospect shirts arriving soon as well.
---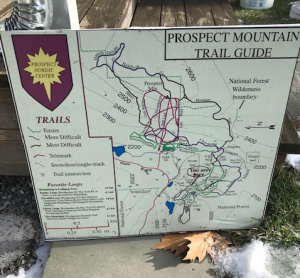 Classic Prospect Relics Now For Sale SOLD OUT
We will have larger maps up next year, but in the meantime we took these down and are using the temporary smaller ones this year.
The maps vary in condition- but they all look good enough to be installed in your rec room.
Thank you!
---
Download the Proposal for the "Greening" of Prospect Mountain. Thank you to the Environmental Studies students of Williams College for their hard work.
---
Prospect Mountain Snowmaking Report (2020)
---
Learn about Prospect Mountain's new Wax Policy. Do you know what's in your wax?
---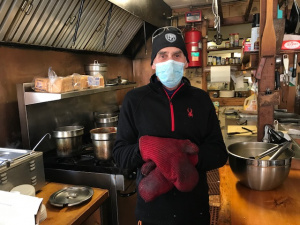 Moonlight Ski is back!
You can't tell, but Steve Whitham is smiling. Our snow is great so Steve has volunteered to make a bonfire on the Beaver Pond this Saturday, January 30. Arrive at 7pm and bring your own provisions.
---
Racing Returns to Prospect This Weekend (Jan 23 and 24 2021) with the NENSA Vermont Cup!
The New England Nordic Ski Association has selected Prospect Mountain to host two classic technique races on Saturday and Sunday January 23rd and 24th. Prospect will remain open for recreational skiing all weekend.
The races will involve about 100 skiers each day. Racers will start at 30 second intervals with time between groups. No spectators will be on site. All racers are VT residents. Races begin at 10am and will finish at about 3 PM.
Saturday is a sprint competition that will take place in the area around the lodge and base of the mountain and will not interfere with skiing on most of our trails. Sunday's race is longer, and will involve more trails including Woodpecker, Boomerang, Whistlepig, Workout, and 1/3 among others. We will have signs up reminding skiers to look out for the racers and not to skate over the classic tracks, and course marshals helping to direct traffic. All trails over at the Greenwood Lodge will be open and not involved in the competition.
It should be a great weekend for all! The conditions are excellent!
---
Many thanks to the 20+ volunteers who came on Saturday September 26th to get us ready for the season.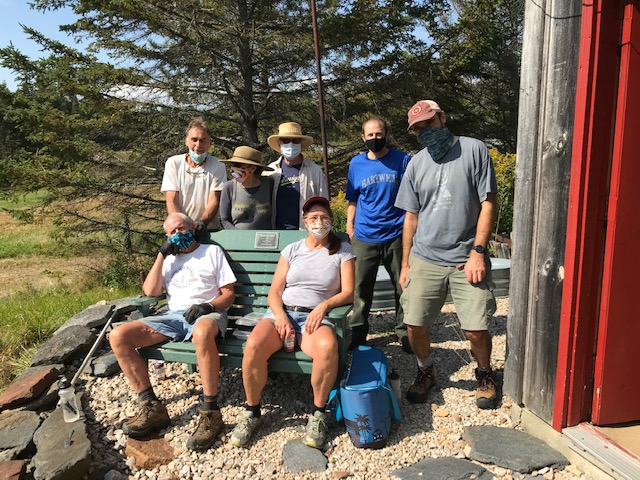 ---
2020-2021 Season COVID-19 Updates
Please stay healthy and safe.
---
---
To all Friends of Prospect:
On behalf of the Prospect board and staff, please accept out sincere thanks for the great support and enthusiasm all of you provided for us this year. It was certainly a challenging season weather-wise. However, Steve and our talented crew did a fabulous job keeping us going. We will sorely miss Elsie next year who is off to graduate school to pursue a doctorate in Philosophy.
Regards,
PMA Directors